Posted by admin on March 20, 2010 ,
No comment
The Bounceologist is moving onwards and upwards. We are now contributing posts directly to the Waboba Blog Asia website. Here's one about the Sanya property bubble and that terrible sinking feeling you get when you realise you backed the wrong horse.
And what a bubble it is. Prices here doubled overnight.
Posted by admin on May 6, 2009 ,
4 Comments
The turning point for Sheldon Habiger, one of the founding partners of Element Fresh, came on a damp January day in Shanghai, 2006.
After eight years in Shanghai, and two weeks before the start of the ear-splitting pyrotechnics to welcome the Year of the Dog, Sheldon watched his young son – suffering from asthma and allergies and intermittently deaf – walk a few short steps and then stop in exhaustion.
Enough was enough. "We have to leave," Sheldon said to his wife, Linda. "We just have to go." read on…
Posted by admin on April 24, 2009 ,
1 Comment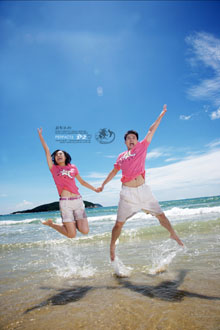 "Two cliches make us laugh but a hundred cliches moves us because we sense dimly that the cliches are talking among themselves, celebrating a reunion."
Umberto Eco. Read on…