Posted by admin on April 24, 2009 ,
1 Comment
"Two cliches make us laugh but a hundred cliches moves us because we sense dimly that the cliches are talking among themselves, celebrating a reunion." Umberto Eco
In the middle of Sanya Bay, between the rambling edge of the city and the start of the up-market hotels, there's a long, flat stretch of beach that advertises elsewheres.
The tour buses don't stop here, driving on up the beach road past sun-bleached billboards promoting villa developments further up the coast.
Here, there are no swimmers, no surfers, no buckets and spades, and hardly any fishermen. You would be forgiven for not noticing the place at all. A flat beach meets a flatter sea.
And yet, this particular stretch of beach just happens to be one of the most fiercely photographed panoramas in the whole of China. Collective wisdom has it that this is one of the very best places in the country for the taking of wedding photographs.
I happened to be there on the day that China announced its worst economic growth since modern records began. If that is the kind of news that might put a damper on a young person's wedding plans, there was no sign of it here.
The place was littered with dashing grooms and blushing brides – at intervals along the beach, posing along the roadside wall, stepping out of vans, stepping into vans, under the palm trees, crouching in bushes, posing at a fake white piano – all dressed in the collective regalia of young love.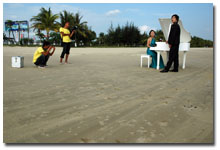 Patty, who runs Perfect2, one of the local wedding photo shops, says that about 100 couples a day have their wedding photographs taken in Sanya, most of them on this section of Sanya Bay.
Even with the economic downturn, there has been no noticeable let-up in the number of couples buying the service, although more of them have been buying the slightly cheaper packages, priced in the thousands of RMB, rather than the deluxe packages, priced in the tens of thousand.
You do not need to be a mathematical genius to work out that that amounts to roughly 36,500 couples a year, and that this unassuming service could be bringing more than 100 million RMB a year into the local economy
At the water's edge, a bride from Sichuan in full white wedding dress was jumping repeatedly, as the photographer immortalised her, with a snap and a flash, in suspended ballet poses a foot above the beach. Her groom, meanwhile, was fascinated by crabs or worms or something on the beach and was poking at them with the wedding photographer's brochure.
Further along, past couples posing among the palm trees and in the long grass, a bride in red was draped over an old fishing boat as she held up an oil lantern to her Adonis. Next to them, and past the fake piano, another couple posing against a miniature US letter box made goofy smiles for my benefit. I returned a smile through the back of my camera.
Further along still, a bride and groom were posing at opposite ends of an old sofa placed right at the water's edge. All of this was just on one day. Other photoshoots have couples posing with motorbikes, horses, tandems and his'n'hers guitars.
The finished photos are lush and beautifully shot, with lots of posing, a fair amount of exuberance, and always plenty of jumping. In the iconography of modern love, it goes without saying that one of the primary attributes required of a happy marriage is weightlessness.
A cynic might wonder what could motivate people to insert themselves, without even a hint of irony, into what are essentially scenes from pop videos and perfume commercials.
A fair number of these photos will hang above the matrimonial bed, so you also have to wonder what it feels like over time to live in the real world and get to see your weightless, imaginary selves floating off into the sunset every night.
With China showing its sharpest economic slowdown on record, and with quite a few commentators questioning the sustainability of the Chinese economic miracle, you also wonder if the Zeitgeist wouldn't go for wedding photos a little more understated.
But this is China resurgent. "Phooey," the photos seem to say. "The 21st century belongs to us."
Many thanks to Patty at Perfect2 Wedding Photography for the free mangoes and for letting us use some of her great photographs. More Pefect2 pix here.
Tags : dadonghai, economic, economy, hotel, marriage, perfect2, photo, photograph, sanya, sanya bay, tourism, travel, wedding