Posted by admin on April 27, 2009 ,
2 Comments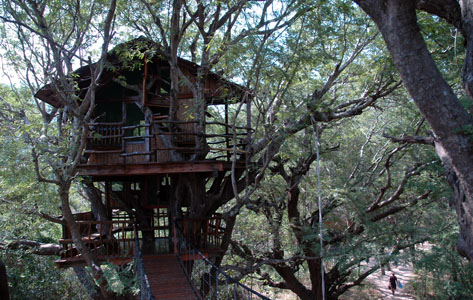 We've just taken a lightning tour of the Sanya treehouse hotel – lightning because the usual entry fee to the Sanya Nanshan Cultural Tourism Zone, which hosts the hotel, is 150 yuan per person. Our host, Leon, could get us in for free, but only for half an hour. He floored the accelerator on our golf cart, delivering us to the site with just enough time for some ooohs and aaahs and the taking of photographs.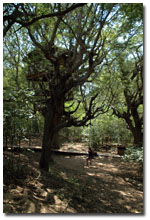 The hotel, if you can call it that, consists of three treehouses in the wooded grounds of the Nanshan Leisure Villas, which is itself a hotel. Situated at the edge of a clearing in the tamarind rainforest, the treehouses are fun, sturdy, neatly varnished and would make for a great weekend out in the wild.
With pricing ranging between 580 and 980 RMB per night, depending on your tree of choice, a stay in a treehouse is not as cheap as you might expect, especially when you add on the 150 RMB entry fee for the Nanshan Cultural Tourism Zone, but when you book a tree you are in fact booking exclusive access to the neighbouring beach and surrounding rainforest, which are closed to the public during your stay.
This gives you, in the forest clearing, a bar and breakfast area, a giant swing and a barbeque spot, all for your private use. You also get full access to the facilities at the Nanshan Leisure Villas, including the swimming pools.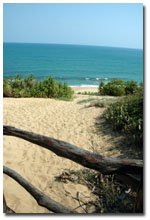 The best value treehouse is almost certainly the one priced at 780 RMB per night, which has bed space for a family of four, as well as running water, a shower room and what has to be China's only fully-functional, sit-down, flushing toilet in a tree. This is also the tree with a view, being no more than ten paces from the top of the dune that leads down to the sea.
All of the treehouses have mosquito netting, but since the rooms themselves are mainly for sleeping in, you will need to come armed with mosquito repellent for use in the public spaces. Bugs will be fewer in the Winter months.
The official treehouse website is here.
The phone number for Nanshan Leisure Villas is: 0898 88837779.
Tags : camping, china, family, hainan, holiday, hotels, outdoors, sanya, tree, treehouses, wild