Posted by admin on May 13, 2010 ,
No comment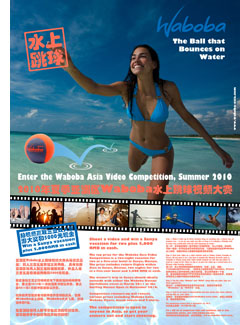 Something for you budding James Camerons and YouTube fiends out there. We've launched the Waboba Asia Video Competition.
The first prize is a weekend at one of Sanya's five-star resorts. The prize includes flights to and from Sanya from anywhere in Asia, plus two nights in a five-star hotel, plus 5,000 RMB in cash.
To enter the competition, all you have to do is shoot a video that has a Waboba ball in it somewhere, preferably with it bouncing on water.
Feeling inspired? Maybe you think you could do better than Nate and Brendan's video for the Surf and Skate.
For full details of the competition, click here.
Tags : competition, video, waboba, 水上跳球