Posted by admin on September 15, 2010 ,
No comment
[caption id="attachment_1287" align="alignleft" width="220" caption="Cast Your Vote"]
[/caption]CAST YOUR VOTE
We had four great entries for the Waboba Asia Video Competition 2010 and it has come down to a head-to-head clash between Sanya locals, Tim and Misty, the Mazzarellas and Brendan of Surfing Hainan.
Now we need you to help us decide who deserves to win the five-star holiday plus 5,000 renminbi in cash.
Click here to watch the videos and cast your vote.
If you're kicking yourself for not having entered the competition, watch out for the Waboba Asia Video Competition 2011, coming soon.
Posted by admin on May 13, 2010 ,
No comment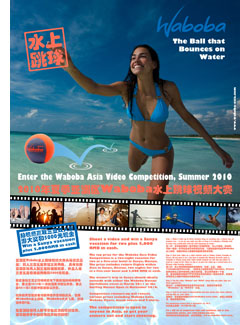 Something for you budding James Camerons and YouTube fiends out there. We've launched the Waboba Asia Video Competition.
The first prize is a weekend at one of Sanya's five-star resorts. The prize includes flights to and from Sanya from anywhere in Asia, plus two nights in a five-star hotel, plus 5,000 RMB in cash.
To enter the competition, all you have to do is shoot a video that has a Waboba ball in it somewhere, preferably with it bouncing on water.
Feeling inspired? Maybe you think you could do better than Nate and Brendan's video for the Surf and Skate?
For full details of the competition, click here.