Posted by admin on April 22, 2009 ,
No comment

Ah, the life! Sun, sea, sand, waves gently toppling over, a tube of SPF 30, a stiffening breeze, the warm, red glow on the back of your eyelids…. Here is a quickie guide to Sanya's main beaches.[...]
Posted by admin on April 16, 2009 ,
1 Comment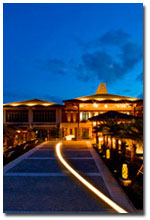 Sanya has more than a hundred hotels. Together they have more stars than an Elvis impersonator's jump suit. Here is a short introduction to some of those hotels.
(We have to say that this page is a work in progress, mainly because we're not the type of people that get to stay in beautiful hotels very often. However, we have visited most of the main hotels in Sanya over the last few months, and here are some of the ones we like the look of…(more)