Posted by admin on September 15, 2010 ,
No comment
[caption id="attachment_1287" align="alignleft" width="220" caption="Cast Your Vote"]
[/caption]CAST YOUR VOTE
We had four great entries for the Waboba Asia Video Competition 2010 and it has come down to a head-to-head clash between Sanya locals, Tim and Misty, the Mazzarellas and Brendan of Surfing Hainan.
Now we need you to help us decide who deserves to win the five-star holiday plus 5,000 renminbi in cash.
Click here to watch the videos and cast your vote.
If you're kicking yourself for not having entered the competition, watch out for the Waboba Asia Video Competition 2011, coming soon.
Posted by admin on April 16, 2009 ,
No comment
Much of Sanya's beach activity is organised for tours shipped in by the coach-load. But we at Sanya Bounce like the feeling of freedom that comes with the wind in our hair, salt in our lungs, the slap of boat or board against wave, and those satisfying bursts of spray you get as a Waboba [...]
Posted by admin on ,
1 Comment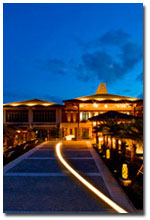 Sanya has more than a hundred hotels. Together they have more stars than an Elvis impersonator's jump suit. Here is a short introduction to some of those hotels.
(We have to say that this page is a work in progress, mainly because we're not the type of people that get to stay in beautiful hotels very often. However, we have visited most of the main hotels in Sanya over the last few months, and here are some of the ones we like the look of…(more)