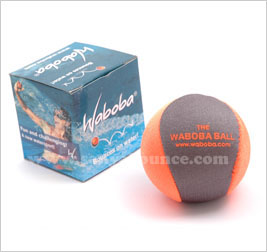 Waboba 球不仅仅是一个可在水上跳起的高性能的球,它也是一项积极的海上运动项目。
在此销售的此款球被命名为极速球,它跳得又高又远, 但投掷时需要用一些力,主要针对青少年及成人。
为了儿童能玩上 Waboba 水上跳球,我们将三月份在中国开始销售较大的可供家庭使用的水上跳球 (旋风球)。
极速球球径55mm, 纸盒包装,附有中文,英文,俄罗斯文说明。

球通过了质量检查和CE 认证,在中国销售的这些球同世界其它国家正在销售的Waboba 球是相同的。
Waboba Extreme
The Waboba is more than just a high-performance ball that bounces on water. It's a positive beach phenomenon.
The version of the ball sold here is called the Extreme. It's a sport ball that bounces high and far, but requires a bit of strength to throw, so it is aimed at teenagers and up.
For smaller children, we will be launching a larger, family ball (the Blast) in China in March.
The Extreme uses patented technology to give it just the right weight, springiness and resistance to drag for optimum bounceability on water.
It measures 55 mm in diameter and comes in a cardboard box with instructions written in English, Chinese and Russian.
The ball has been quality tested and is certified CE, and the balls sold in China are identical to those sold in the rest of the world.
The main information on the Taobao page looks something like this:

Price per piece:

60.00 yuan

China Post:
(Mainland China)


7 yuan

Express shipping:
(Mainland China)


10 yuan

EMS Shipping:
(Parcel Post)

22 yuan

Shipping is free with orders for two or more balls

Number you would like to order:

If you're a seasoned Taobao user, or if you read Chinese, you just need to click through here to buy the ball.

Otherwise, you probably need a bit of extra help from the excellent Taobao Field Guide.

Taobao Field Guide, or TFG as we call it, is a step-by-step guide showing English speakers living in China how to enter the weird and wonderful world of Taobao - China's largest and most popular online shopping website.

With examples and clear illustrations, it takes you all the way through the process, from registration, to adding money to your account (this bit requires a trip to the post office), to checking feedback and buying your dream item.

Before you know it, you'll have your Waboba ball ready for bouncing and also be whizzing around Taobao, snapping up other great deals and hard-to find products.

Get started here.

My Other Website's a Porsche

We don't have a track record on Taobao, unfortunately, because we've only just worked out how to sell on there, but our other company (with an awesome line in Christmas stockings) has a five-star rating on Amazon.co.uk.

Why not rate us on Taobao?

在三亚邦士,我们是一帮心不太老的创业者,我们热衷于跳球并居住在三亚。

由于我们刚加入淘宝,在淘宝网上, 我们还没有任何记录,但我们另一公司在Amazon.co.uk 上被评为5 钻级别。

请在淘宝上给我们反馈意见!


At Sanya Bounce, we're young(ish), entrepreneurial, we like bouncing balls and we live in Sanya.
Here's what our sky looks like most of the time... gorgeous, unimpeded, cerulean blue.
You can contact us here.
三亚邦士贸易有限公司