China's Beach of Heavenly Peace
Dawn in Sanya comes up like an exclamation mark. Within minutes, it banishes all existential questions and announced itself in capital letters. Bright sun, blue sky, a stretch of sandy beach, a waft of fresh air, a rippling sheet of sea - this is not just a morning but a Morning! a perfect day, with unstinting clarity of purpose.
Situated at the southernmost tip of China's Hainan Island (which is itself the southernmost point of China), Sanya represents everything that China's big cities are not.
Here, the air is clean and the pace is slow. The sea buckles and falls. Children play in the sand, while adults contemplate their next swim. Kites nod listlessly in a deep blue sky.
This is China's Hawaii, a heavenly peaceful getaway, and yet it's only an hour's flight from Guangzhou and Hong Kong and three hours from

Shanghai.
Here is a brief guide to Sanya's beaches, hotels, and fun in the sun.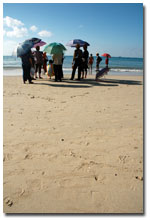 Life's a Beach,
but Which One?
Living large, Lost or lap of luxury? In Sanya, you can take your pick.
The Sanya Music Festival
The event of the season, on June 27-28. Find out more.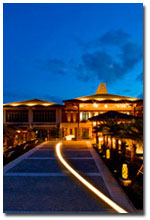 Luxury Lowdown
Seeing stars at Sanya's top hotels, and backpacking for a bargain. Click here.
Sanya Survival Guide for Parents
Handy help on what to do if your child gets sick while you're on holiday.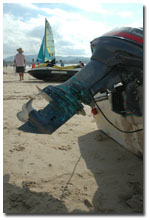 Push the Boat Out
Big bad boats, boards, bikes and Wabobas. Sanya's fun in the sun.